Oh hey !!! No I haven't lost it !!!  My mind, that is. Last week, at the end of my post, I mentioned my sister Kathy. For now this is what I will say. She is older. Her name is Kathlyn. I am Kathy Lynn. We have the same bio (biological) Mom. We have not yet met.
This is my  final post about figuring out who I am. I cannot put to words, but I am so not who I once was. It has been extremely discomforting. For me, I have an awful gut grind, daily.  It seems to be caused by the doctor talk and decisions about Shawn's end.  Sometimes it seems like a me remake, if you will. I have some things to share, and maybe some sense can be gained from it. If nothing else, Melissa will learn some new things, about me.
I have been pretty fortunate, all the jobs I have had, I have enjoyed, immensely. I am a good worker: reliable, attentive and self managing. Once I learn a job, I have to find a way to  fit in my Me-ness. We all have our unique way of doing tasks.
 I have very fond memories of the aquatics class I taught at Spa Lady, at the north end of Spokane, in the early 1980s. The class started with 3 ladies, at least 30 years older than myself. In a few weeks time the pool was full. One of the comments I loved ,"Kathy, I didn't know it was possible to sweat in the pool."  It was a blast of a class !!!
  My cleaning business was called: "Your Cleaning Solution" This is the closest image I could find, that I used, on my flyers.     
  I loved all the organizings I was able to do while working at  Sears:  the bed, bath, drapery, kitchen, men shaving accessories, and carpet areas. When I think back, there was a lot of area to organize and maintain, with weekly merchandise arrivals. When I started-I was very overwhelmed at the mess. When I accepted another work position, I was pleased with the final results of my efforts. The heighth of the shelves I had to work were taller than a ladder like this: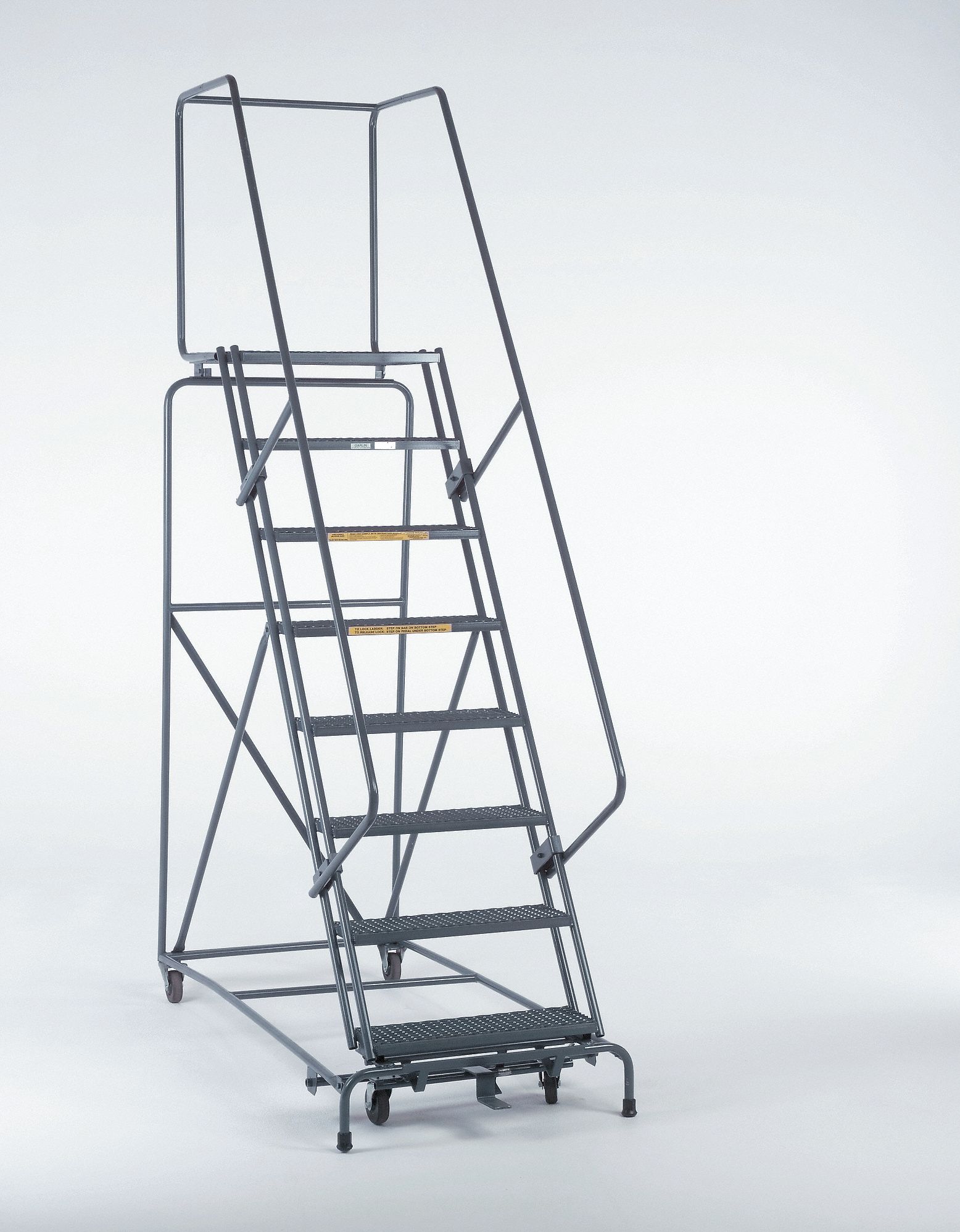 which made the task more challenging. I, often had to ask for help from the tall workers.  
I loved every part of working at Blount: mop bucket prep, figuring out how to package chain  saw chain (some as tall as myself) to look tidy for shipping, using the forklift. My first review at Blount;  I was told how I couldn't multi-task, I was slow and not coordinated, and that I had no self confidence. My personal goal was to show my boss that I could do better than anyone there. Plus, I gave myself the extra challenge of taking the 2 worst workers, in the plant-as was told to me, and I was going to help them shine. They became so good, at everything. So, I then had us compete with the other shift, as far as product ready to ship. We were great. I loved seeing those guys happy to work and not sluffing around.   I had to leave Blount because of my silly asthma/allergies-which brought me to bus driving. A story in itself.    My job goal-anywhere- has always been to apply myself to the max and to make things better than when I started.                                                                                                                                                                Here is a tell from one of my friends:        
" One morning, probably not too early though, in the midst of a crazy morning with Amanda about 11 or 12, Zachary about 9, Christopher 7, Lindsey 5 and Jonny a little guy. I discovered that I had lice. I think I saw a bug on my pillow, legs and everything! I was on my way to take my Mom to chemotherapy. I had to go. I helplessly braided my hair into a thick braid and said good-bye to the kids. It was so disgusting but nothing else to do. I remember trying not to tell my Mom as I didn't want her to worry, but I did tell her. I'm not good at keeping things in. After being gone all day I could think about what to do with the situation. We washed with Nix from the store. Must have been a few days gone by and bugs still active in my, Amanda, and Lindsey's long hair. Patty P. said, "This is going to impact your life." She would know as she had experienced 4 long haired girls with lice! I took that advice to heart and figured out what we should do. It felt good to 'do' something since I was helpless to remove the crawling bugs in my hair. The girls and I started living in our master bedroom and bathroom while Matt cleaned the whole house, vacuumed all the furniture and did everything he could think of to make sure it didn't spread. Lindsey remembers it as a fun time. We had nothing to do but spend time together. I remember being very thankful for Matt bringing us meals and taking care of the household. He must've gone to work with the boys holding the very clean fort during the days. I was irritated as we went to the doctor, who wouldn't just take my word for the fact that we had lice. After sneaking us all three in through a back door he confirmed that we indeed had lice and gave us a prescription shampoo. More washing. At some point our good friend and the hero of this story, Kathy Kitzmiller, came over and patiently combed and picked through our hair. Each one of us. We reluctantly offered to cut it but none of us wanted to. She said she could do it with it long. I was thankful because I really didn't want to lose my long hair. After another few days it was obvious that the prescription shampoo wasn't killing them either. Patti suggested that if you soak in a warm tub of water with your hair under the water they relax and float to the surface. We found that to be the only effective method of ridding ourselves of the tenacious buggers. We soaked and rinsed, Kathy picked out the eggs. I don't know how long this ordeal went on. I don't have a lot of memories except for thankfulness for my friends' advice. I think our whole family figured up some good things to do when we weren't soaking or being picked and made the best of a very unusual circumstance. Praise God for good friends and hot water. I got my money back from Nix for the expensive shampoo which didn't kill our lice! There you go! Thank you for your help all those years ago and thank you for helping me understand my beloved Elisabeth's position a little better. Much Christian  Love to you, my friend, Karen "       
   A LOT OF HAIR !!!  Around that same time there was another family with a lice problem. 4 girls with very thick waist length hair. It took me many sessions until the situations cleared up.   I haven't checked this out, but someone told me that hairspray smothers the critters.
I am:     a Nit Picker
  an over-thinker
  analytical 
     too self critical; at my work review: 5 .29.15- my boss upgraded several areas I had given myself a mediocre score.
   not a good twiddler
    creative, from what folks tell me
     on the hyper side
    not a good sluffer
    a carer
  a very tidy laundry folder
.                                    I was  a very good weed puller, in my childhood.
   I have always LOVED hand washing dishes !!!
—(probably because I was born in front of the kitchen sink.)    I keep a fairly clean bus
                                                                          A DOT /CROSSER 
  !!!              
On personality tests for right brain, left brain. I am both.    
So, yeah, well, maybe this will put it in a nutshell ?  My bus driving takes me through many neighborhoods, poor and rich. Every-time I have the privilege of seeing a painted foundation, my heart is thrilled. I must admit there are not many folks who have painted their foundations.  
   I remember when we had our house painted. I asked our friend if he would paint the foundation. He said "no". It isn't done, the paint won't adhere , and it would be cost and time consuming.       When the paint job was finished. I remember arriving home and seeing a bluetiful house, which was originally a white gray. I absolutely loved it. As my eyes scanned every inch of gorgeous blue I became sick to my stomach, when my eyes landed  on the repulsive foundation gray that apparently most of the world likes. I had enough time, before that school year started, to paint the foundation myself. I was elated at the finished work !!!      
                     A painted foundation makes a house look complete. Plus, it reminds me how Jesus'  blood covers my ugly sins.
It was not my intent to be so wordy, today. Chatty Kathy
      Where I am today, is different. I have not been able to get some projects completed, I find a lot of situations overwhelming, I am afraid to lose others, I am not organized like I used to be. A lot has changed since Shawn died and I cannot seem……..